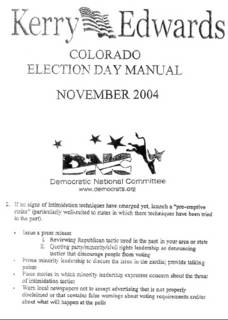 Click on the picture to go to the larger pic posted by Drudge. The text (point 1) under the graphic reads, "If no signs of [voter] intimidation techniques have emerged yet, launch a 'pre-emptive strike' …"
Yes, that's right. The DNC is telling their foks to fake stories about voter intimidation.
But, really, is anyone with two or more active brain cells surprised?
Still, this is going a little farther than one might expect them to do openly. After all, creating reports of fantasy voter intimidation and reporting them to the authorities would be a false report of a crime, which is… a crime. So, would the instructions to create and report phony instances of "voter intimidation" be a conspiracy to commit a felony? Legal eagles would have to examine that issue, but it'd be interesting to discover if the Dems were placing themselves under RICO examination…
[heh]